Forty years! Exactly 40 since I first crossed paths with Roy Harper…and last night we were at his 75th anniversary gig so an anniversary for us both, you could say. He was far younger than I am now when we first "met" and now he looks like the wise old man and me…well. That's forty years out of which I've seen him three times, almost four and, when I compare those occasions, last night was like a coming of age, not only to mark all the stages of his life but of mine too. Its one of those moments when a lifelong love of music is seen for what it really is; altogether much more than that, like a parallel road running along side the more obvious path of life, intersecting with it at many key moments.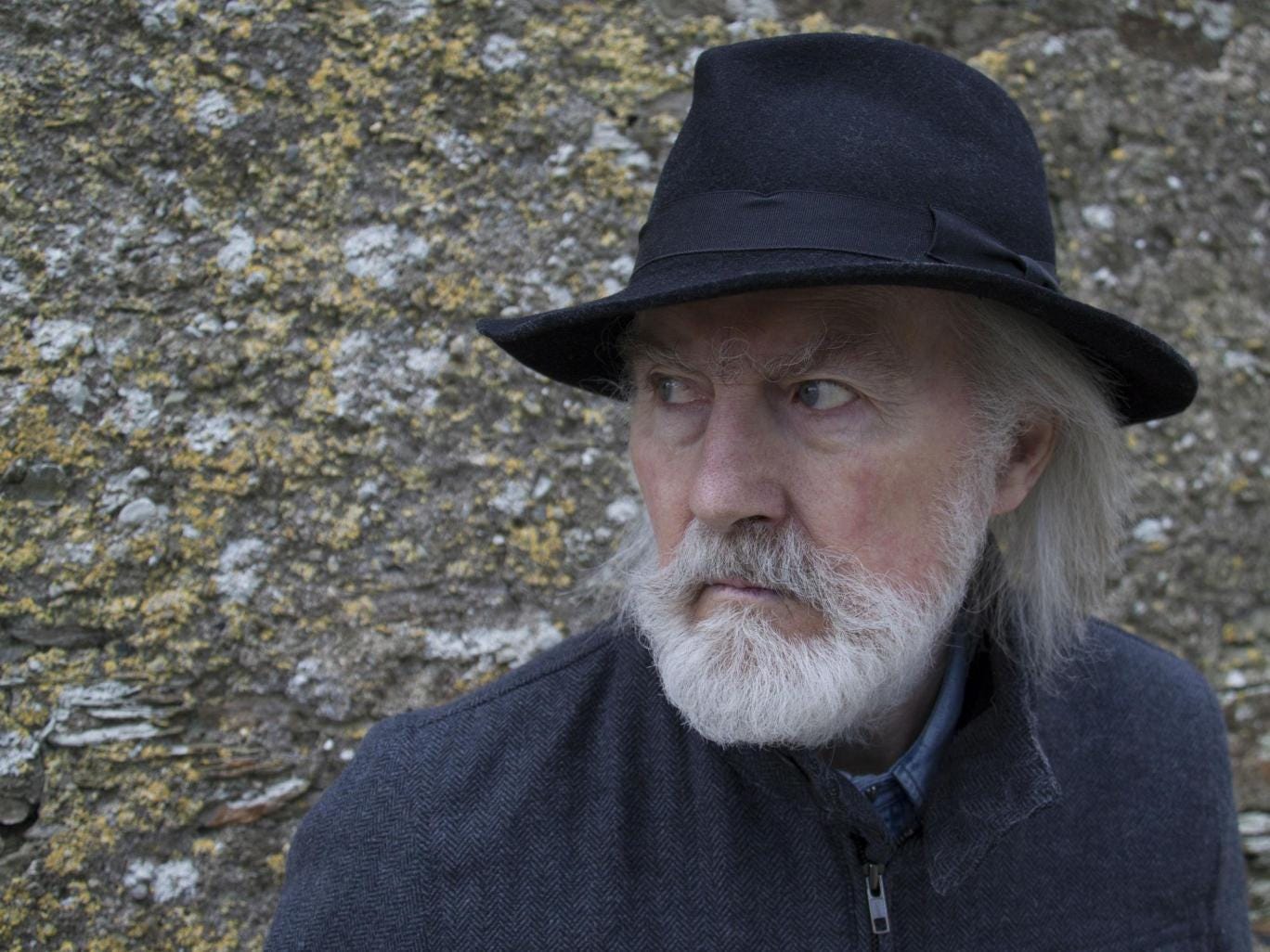 The first time I (nearly) saw him – had the tickets in my hand – my friend's dad heard some of his lyrics and live-performance preamble and banned her from going because of sexual references and swear words so I had to sell them and was gutted. I had no one else I could go with as he wasn't exactly what my 14 year-old peers were listening to at the time. The second time he came past my way was at an intimate gig in the high-Victorian concert hall of Reading town hall across the corridor from the venue of my disastrous first marriage, in a Pre-Raphaelite room designed by my old friend Waterhouse, with an inordinately huge organ and gothic balconies as a backdrop…and there was little Roy on what you could barely call a "platform", acoustically delivering music (beside his son Nick) with such softly spoken preamble that you felt like we were all cuddled around someone's fireplace on a dark winter's night. The third time was at the Colston Hall in Bristol on the night of the huge gales that flattened most of the the West Country half a decade ago (which still didn't keep us away…) and could have been a bushy-beard and motorbike convention. The audience shouted out "rustic" comments, we got sloshed with beer from other people's plastic cups and sat next to someone so huge and beer-breathed that we virtually had to share a single seat to cope; it was a memorable night and we were still very glad we went.
This fourth was very different; the Royal Festival Hall on the South Bank (a venue I'd never been to before) with its panorama of London landmarks and nest of popular eateries  still spilling their summer-time seating onto the pavements below. We got there after having a "picnic" dinner outside the Tate Modern and going for a circular walk that turned out to be in meaningful juxtaposition with Roy (but that's another story), also beneath the parade of beautiful plane trees on the South Bank that are under threat of being cut down to make room for a vanity project (the proposed "garden bridge"), the sort of right hand not caring what the left hand is doing scheme that is likely to have made Roy tut a few expletives as well. With the panorama of London all lit up in front of us, we noticed how this place made Roy seem all grown up; not least because of the string arrangements he'd come with. Those arrangements turned out to be sublime and made all the difference this time around; so closely nodding to every nuance of the original ones of David Bedford (no longer with us) that they endorphin-activated all the memory cells of many years spent listening to those original recordings. For more on those and the talented woman who put them together –  Fiona Brice – who was also on stage last night, I recommend her article "Twelve hours of soundcheck" as just hearing what she put together made me so glad we had made the effort to be there.
I need to put that comment into some context; almost six months after I bought the tickets, before we left home for this gig…even more so when we tried to coordinate all the necessary arrangements to make it possible and then catch a train…I had found myself wondering why I was doing this on a Monday night in London. Not my favourite night of the week for doing anything complicated, least of all in September; looking at the rest of the audience, I wondered if the assumption has been that most of his followers were retired and without school-age children. But as soon as I felt that electric frisson as Roy walked onto stage, heard what he had to say, recognised the first bars of one of my favourite songs (and the first in a set that could have been hand-picked just for me), I knew why I was there, why I couldn't have not been.
When you really hook up with an artist, this is how it feels; and you know you are in for the long run with them because you set them up this way, as a living breathing reminder to yourself of "important things". In getting to know Roy this well over almost a lifetime, I've got to better know myself and that's a role I wasn't going to hand out to just anyone…not to some fly-by-night pop icon of the 80s or somebody recording sloppy "cheese". Many times, I've checked in with myself…does Roy still resonate with me? After all, not all the music of so long ago really does any more; my taste and preoccupations have changed hugely and never more so than lately when all I seem to long for is new and fresh, shaking off heavy old lyrics and thinking, for heavens sake, please stop singing about depressing old things. But then, like any great artist, yes he does still resonate; he keeps abreast with me at every growth spurt, his old lyrics revealing new layers and his new ones meeting me just where I am. When an artist is as meaningful to you as this you become, at some level, paired to their own life story like two horses trotting together so that, even through the tough bits (and Roy has been through some of those lately), their journey shines relevance upon your own in ways that feel startlingly meaningful; and then, when they come out the other side again (as he so obviously has), you feel this good news reverberate as "yours" at some level, so then you celebrate (and you grow a little wiser) together.
I once, tongue in cheek, described Roy Harper and Kate Bush as my musical father and mother; they both stepped into my consciousness at a very particular time in my life and at such a tender age (we're talking the mid 1970s here, before I was even a decade old) and they have both run alongside me all the way. But Kate, like the epitome of the sacred feminine that she kind-of is (if in the way that we have come to equate with rather aloof statues in temples) has proved to be impossibly elusive to me in the physical world; the nearest I've got to her is knowing someone who used to be her neighbour, albeit meaning they lived next door to the high wall of her well-guarded estate. The one time she famously came out of self-chosen hiding to put on a concert, I tried and failed to buy tickets…had them in my "basket" and was about to tap in my card details when the booking-line crashed beneath the weight of phone lines gone crazy at the furor of her "coming out" for once and that was that; a heartbreak at the time but now I smile at what it had to tell me.
Roy has never been so elusive; he is earthily available, joining his audience in easy conversation and oh-so mortally flawed…he wears that like a badge and writes songs about it endlessly…yet, to me, he is still the very poster-boy of the sacred masculine in action, though he would probably spit the label out if he heard it. I bought a "green man" to hang on my tree a few weeks ago but couldn't find the right name until – of course – he's Roy, he even looks like him (but then he has an album by that very name – "The Green Man" 2000). To me, he epitomizes the heart-space of a man that simply wants to meet with a woman and, with her (never limiting her but watching her fly wildly whilst worshipping her) birth an eternity that feels something like a dappled glade by the water's edge dotted with forget-me-knots, losing himself in the unfettered union until its time to reach for his guitar and turn it into lyrics again. The romance in his soul is the very essence of that "lost" masculine note in our modern world that longs to be heard once more but finds itself battle-weary and demoralised at the end of an era that has seen him dragged into other people's messes for far too long. He's the timeless essence of all the best bits of the masculine, embodied exactly as you'd expect him at age 75…white bearded and craggy-faced and with an unmistakable twinkle in his eye. I realise now how I always pitched myself for such a man (one who would always let me fly and worship me just a little) and it altered the course of my life, getting me there in the end.
And love is no torment for we'll give when we can
And we'll live in the moment when you are my woman and I am your man.

(Roy Harper – "Commune" 1974)
Yes, there's still a world-weary note to Roy these days; he said he hadn't voted one way or the other over Brexit because "it's a young person's world now" (though you can tell he still worries about what his generation are leaving behind for those youth…) but there's also a note of optimism in there…there always is; its what's fuelled his entire career and he is an undeniable part of the fabric of that newly-birthing world, whether he admits it or not. He helped shake things up so they would have options and a staggering number of people have listened to him for all he's not mainstream. Listening to him last night from the angle of what felt like a retrospective, such was the emphasis of the song line-up, I felt such gratitude for all the angst and anger his generation stirred to the surface ready to heal the cyst of what came before. What I feel coming "in the future" will be less to do with heated exchange than reconciliation and yet he got us to that very threshold; is part of it and…in his newly tangible mellowness (in his physical persona and his most recent lyrics) I find the promise of an entire world's coming of age and moving on at last. In witnessing his – of all people's – new "mellowness" take shape he makes mellowness feel like a possibility for all of us and its no bad thing after what we've been through. There's an air of "we're all human beings so lets move on now" about Roy and its something we all need to hear. The fierce anger of earlier lyrics has simmered down to the well-seasoned stew of the wise man who has seen it all and for whom optimism glistens on the very whiteness of his beard, even if it's based on the belief that he won't be around to tackle other people's messes in another decade or two. Even "back in the day", you could perceive all the great optimism that he has tended to equate with "the younger generation" and he still has that in spadefulls; he's done his bit and knows they will carry it forwards.
Locked in mortal combat as the future shadows loom
The guardian of my spirit fights his way across the room
To where the sick majority infest the myths of doom
But the lanterns of children hold firm in full bloom

(Roy Harper – "Hallucinating Light", 1975)
Since then, his voice has matured hugely…there is massive resonance in there now; its quite incredible and deeply stirring to hear in a venue like that where a final gutteral sound at the end of a song (I won't necessarily say "word"; there's something primal in there at times) had the entire audience holding their breath. Listening to a live recording from the mid 70s just now, the difference between his voice then and now is quite immense and he has only got better. To me, quality of voice (for a singer) tells all about where they've been and the layers of Roy can be heard in the richness of the sound he makes. Just as we all tweak and turn the dial of our own vibration across the course of a lifetime's experience, calibrating what we give out to others to match what we consider to be our own truth, in Roy you can hear what he is about via the tones vibrating from his vocal chords…now rich, powerful, other-worldy at times and utterly arresting when you experience them live helped by those acoustics. His vibration bespeaks a lifetime spent growing a soul and he comes across as more "whole" somehow, less fragmented by pain, than he once did; and sounding far better for it. Its a sound that comes from a heart that appears to be bleeding somewhat less than before. He is so craggy, wizardly and white-haired now, so creased and worn in by his human experience; so unfailingly earnest too that you just have to love him. If I was visiting from another planet and listening to Roy tell one of his stories for the first time, I would want to be a human being like that next time around; he's a great advert for being what we are, warts and all. He still goes off about some of the things that really piss him off about the state of the world but you mostly get the feeling that he's had a blast along the way, in spite of all the tougher times, accepting the whole of the ride for the good bits. Yes, he seems to have become more whole against the odds of all kinds of fragmentation that has come his way and, in modelling that, he helps to get us all there; which is what earns him the label "folk singer" I suppose, though I never think of him that way.
This is an optimistic work as are the vast majority of my songs…(laughter)….its true, there isn't a pessimistic one among them really"

(Roy Harper – live, many years ago)
Our relationships with certain artists become like shining threads of meaning woven through the course of a lifetime. When we hook onto them, its like clipping ourselves onto the kind of ropes that are slung between climbers; you only need to know you are attached at the moments when something happens and you feel that connection tug oh-so meaningfully, often reassuringly, between you. They can be a saving grace you put there without even knowing why at the time. They also act like a spider's web of understanding outside of time and place; threads flung hither and thither across the linear confusion and seemingly running their own course, outside of the three-dimensional, until suddenly they help you make sense of all of it. In winding your thread around the hook of them, the reminiscence of a song or other artwork that marked a place where you felt "that" too, you create a portal between parts of your own life that can be travelled at will, skipping the linear timelines that can make grasping the broader panoramas of your life a piecemeal and painstaking thing at ground level where the pavement has many cracks. Suddenly, you are on the top floor and confronted with the much bigger picture of it all, a view across the very rooftops of your life…and ropes slung across the landscape by all the music you've pegged to certain key points for all these many years.
You come to love such music in an entirely unconditional way since it has nothing to do with fashion, fad or the emotions of immaturity. Through multiple repeat playings, these musical markers become power nodes where you wound your thread so meaningfully around a particular landmark on your life and said "remember to look back at this when the time is right and you'll make all new sense of it when you do". Being music that we deeply enjoy, we remember to keep that appointment with ourselves; which is so important and makes all the difference to what we take from it much further down the line. Of course, this happens wherever we plant reminders for ourselves but when the reminder comes via music or other art form, the three-dimensional criss-cross of coincidence opens out to become the temporary north star of our own navigation, pointing us off in a multitude of directions from the pivot point of experience that we are, taking us off along all the pathways of all our own associations built around that particular prompt as well as down the many paths of the song lyrics themselves and those of the artist that delivers them…all these crossing-points suddenly converged as one multi-pointed star. Looking down at the convergence of stage lights on the pinpoint of a fuzzily-outlined guy with white hair and an impressive collection of guitars (I really must remember to take my glasses to these things…), listening to songs that meaningfully skip me across all the decades of my life, I felt like I was looking down at some of the most powerful convergence points of everything that has ever happened to me…all embodied by one person dwarfed on a huge stage seen from up high in the front-row balcony seat of a venue that was his best fit yet. Pull the pin of him out of that life and my "story" would be very different indeed.
And full the single stillness of the mirror that is made
By each and every one of all the colours in a shade
Inside each eye is sitting like the sword inside the blade
And longs for once upon a chance to open love's cascade

(Roy Harper – The Same old rock 1971)
Listening to Roy, I can fly between some of the most meaningful the portals of my life as he's hooked-up to the best of them; a pattern I long-ago started to perceive through the mists of time following his thread. As a young woman I would vet budding relationships according to whether they had even heard or Roy or were amenable to listening. Later on his "guidance" came through subtler synchroncities, hinting I was still on my patch. When someone (still) crops up in your music urges as regularly as he has to me (even when you don't play them all the time any more…not even nearly), you start to sit up and take notice, knowing it has something important to tell you. Why did I buy those Monday night tickets last April, I'd been asking myself; then, remembering where I was back then, which was one of the most powerful completion points of my life to date, putting to bed "old stuff" I felt finished with once and for all, I suddenly knew why I'd made this appointment with Roy, buying tickets on a whim. When you "get" the deeper patterns of your relationship with artists – all kinds of artists – you get the most out of all the times they crop up in your life-story. They forge pathways of "hallucinating light" (Roy Harper – 1975) across your world, making the multidimensional layers multi-meaningful by bringing them up to the surface where you can see them more clearly, reminding you of that thing that Roy now also knows: that "time is temporary"  (Roy Harper – 2013) and what really matters would still be left standing there without it. In getting to know Roy this well, I realise I got to know myself far better than I could have managed on my own.
One of the things that I came away with was a profound sense of the past being tied up in a bow with the present, made newly relevant in the here and now where what I thought I knew before was only a page marker. In the preamble to "Another Day" (Roy Harper – 1970), a long-time favourite song of mine that I felt I knew pretty well, he announced it was written many years ago about an unconsumated love (yes, I knew that)…but then he also mentioned it was written while living in an apartment in Copenhagen overlooking one of the long rectangle lakes that we walked home along – sunset after sunset – every night that we were staying there just a few weeks ago, gazing wishfully at apartment windows like I was looking for a clue of something familiar that once happened there. Suddenly this new layer of personal significance, lit up from within an "old friend" of a song, took the deeply familiar to a whole new dimension like a wash of colour to all those old-familiar words…and life is like that these days; just when you think you know something really well it gets even better, the colours turned up. Thinking back to all those tranquil pairs of swans gliding on pure molten gold in Copenhagen for what probably felt, after a few days, like "Twelve hours of sunset" (Roy Harper – 1974), I wanted to share with him my insight that perhaps the unconsummated relationship he had been singing about for nigh on fifty years had been fulfilled at a whole other level, the essence of something long caught-up between men and women in general "addressed" and thus transformed through the words of a song. Like all great poets, he takes universal themes of pain and loss then spins them into pure gold as art form against the very tide of a Rumpelstiltskin game that would have us all done-in and demoralised by our own trials and tribulations otherwise. Art forms such as his have kept us a afloat across the lashing seas of an era and – I think – delivered us safely to another shore. As the very boat builder with his words, I hope he knows that too.
Oh really my dear I can't see what we fear
Sat here with ourselves in between us.

(Roy Harper – Another day, 1970)
In the end, you got me Roy…you made me choke up, we were both wiping tears in the end and  we weren't the only ones as the standing ovations rolled. Of course, it was the encore of "When an old cricketer leaves the crease" (Roy Harper – 1975) that did me in but then it made me want to cry just a little when I was a girl. As this old cricketer made his way off the stage , I had a steady knowing that he would be back some time soon…either at the "Roy" Festival Hall for yet another birthday celebration or maybe to play out another role in his next lifetime (though I suspect he still doesn't believe in all that); and hopefully one where he can afford to be just a little less pissed-off about the state of the world.
---
Title alludes to the song "Hats off to (Roy) Harper" – Led Zeppelin (1970)
Another great review in the Telegraph